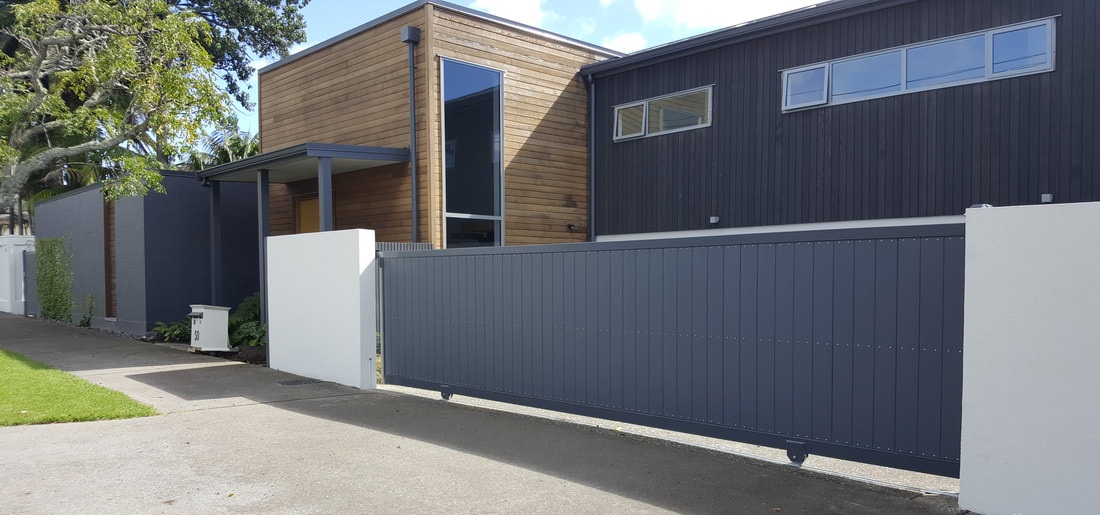 In need of expert electric gate solutions in Auckland? Our highly professional team at Electric Gates Auckland is here to offer timely and cost-effective services. We can arrange a free quote and site visit within 24 hours, guiding you through a variety of styles tailored to your needs and budget.
We pride ourselves on delivering top-quality electric gate systems for both residential and commercial premises in the Auckland region. Our comprehensive services encompass everything from electric gate installation to custom-designed gates, automation features, and finishing touches.
Selecting the perfect electric gate involves a myriad of considerations, but don't worry—we make it easy for you. Our dedicated team is available to answer all your questions, provide expert recommendations, and steer you smoothly from the conceptual phase to the final implementation. Rest assured, our customer service excellence is second to none, and we stand by the durability and quality of each gate with a full warranty.
Choose Electric Gates Auckland for unparalleled expertise, years of industry experience, and a firm commitment to enhancing your property's security and aesthetic value. Contact us at 09 888 9266 for a complimentary consultation, or use the form below to receive a free instant quote.
FREE INSTANT ESTIMATE
**plus FREE bonus coupon**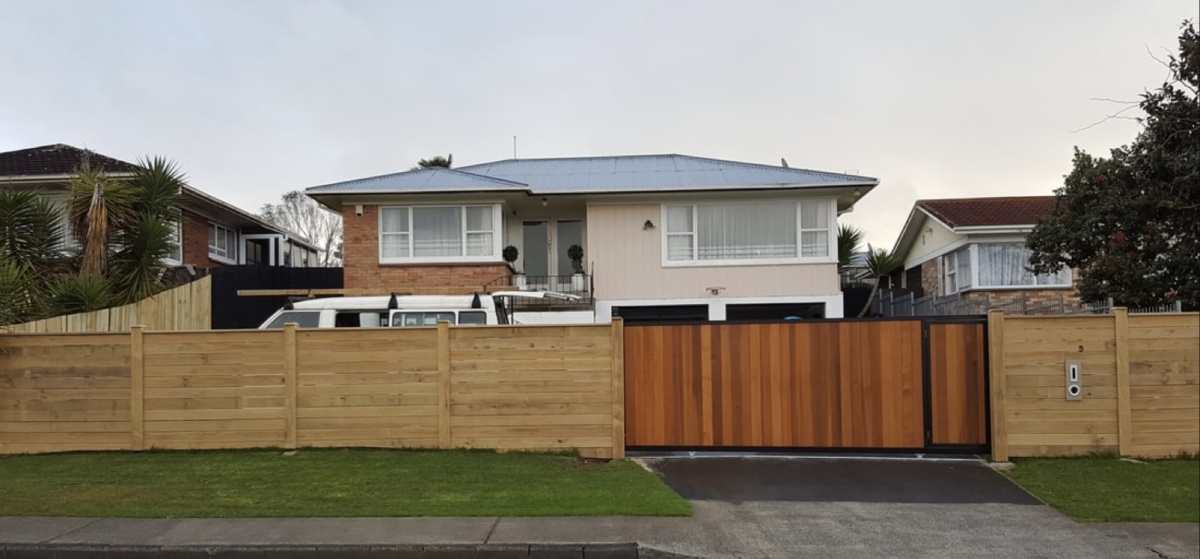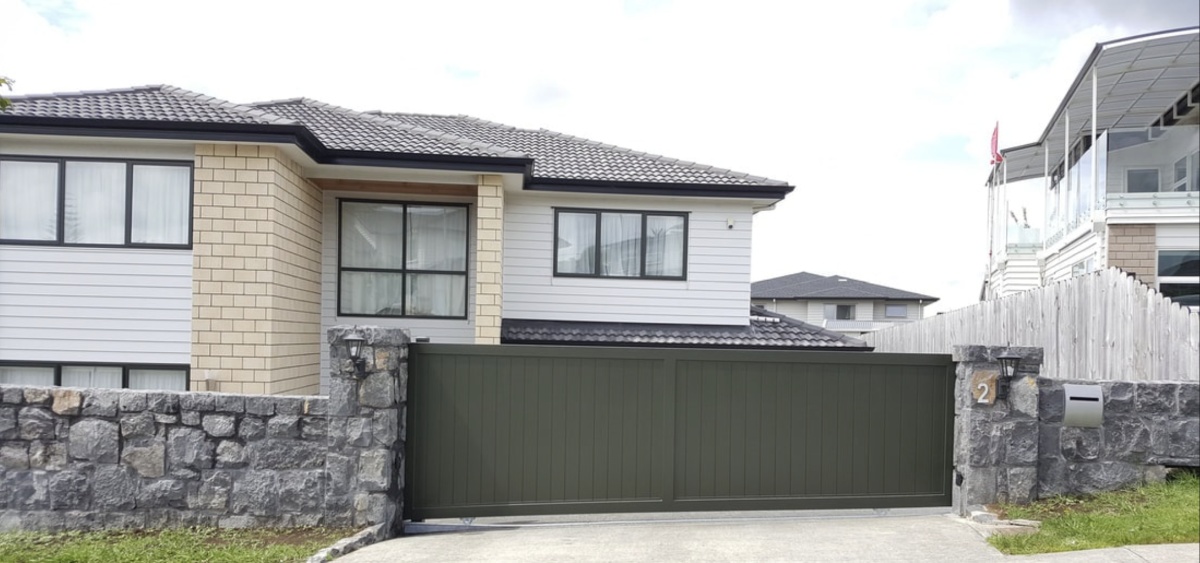 Our Auckland Electric Driveway Gate Services
At AJ Electric Gates Auckland, we offer a comprehensive range of services to cater to all your electric gate needs. Our team of experts is here to ensure you get the most suitable gate system for your property, be it residential or commercial. Below, you'll find a detailed description of our specialized services, ranging from sliding, automatic to swing electric gates.
Sliding Electric Gates
Sliding electric gates are an excellent option for properties with limited space or steep driveways where a swing gate wouldn't be practical. The gates slide parallel to the fence line, ensuring that your driveway is entirely accessible. Our sliding electric gates are designed to deliver not just function but also form—they can be tailored to match your property's aesthetics, from the choice of material to the color and design. The sliding mechanism is top-of-the-line, offering smooth, quiet operation and exceptional durability. With a variety of security features to choose from, you can customize your gate system to provide the level of access control that suits you best.
Automatic Electric Gates
Convenience and security come hand in hand with our automatic electric gates. Using remote controls, keypads, or even smartphone apps, you can open and close your gate without leaving your car. This feature is particularly useful during inclement weather conditions or late hours when personal security is a concern. Automatic gates also offer a level of security that manual gates simply can't match, including the ability to quickly close the gate behind you, thereby preventing unauthorized access. Whether you opt for sliding or swinging automatic gates, we provide a range of designs and materials to perfectly align with your property's look and feel.
Swing Electric Gates
Swing electric gates are a popular choice for both their classic appearance and ease of operation. Suitable for a wide range of property types, swing gates open inward or outward from a central hinge point. We offer single swing gates for narrower driveways and double swing gates for larger openings. With our customized design options, your swing gate will be both functional and aesthetically pleasing. Our advanced electric systems ensure a smooth, reliable swing every time, allowing for comfortable entry and exit. As with all our gate types, we offer various additional security features, such as intercom systems and built-in cameras, to further enhance your property's safety.
Area-Specific Services
No matter your location in the Auckland region, our team of experts is ready and equipped to meet your electric gate needs. We have catered to a diverse clientele throughout Auckland, from North Shore to South Auckland and everywhere in between. Our area-specific expertise allows us to consider local weather conditions, property styles, and specific security concerns when installing your electric gate.
Quality and Safety Standards
At Electric Gates Auckland, we adhere to strict quality and safety standards. All our gate systems are compliant with New Zealand regulations, ensuring they're not just secure but also safe for you and your family. We use only the highest-grade materials and state-of-the-art technology in our installations.
Consultation and Customer Service
From the moment you contact us for a free consultation to the final touches of your electric gate installation, our commitment to outstanding customer service remains steadfast. We provide clear, detailed, and honest quotes upfront, with no hidden charges or unexpected expenses. Plus, our team is available for ongoing maintenance and support long after the installation is complete.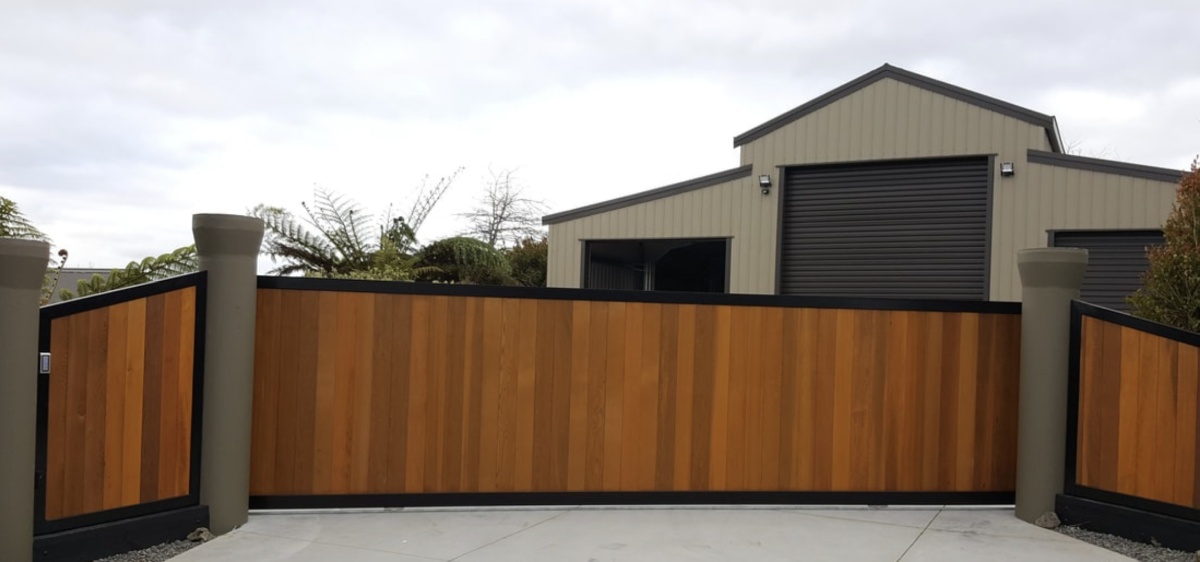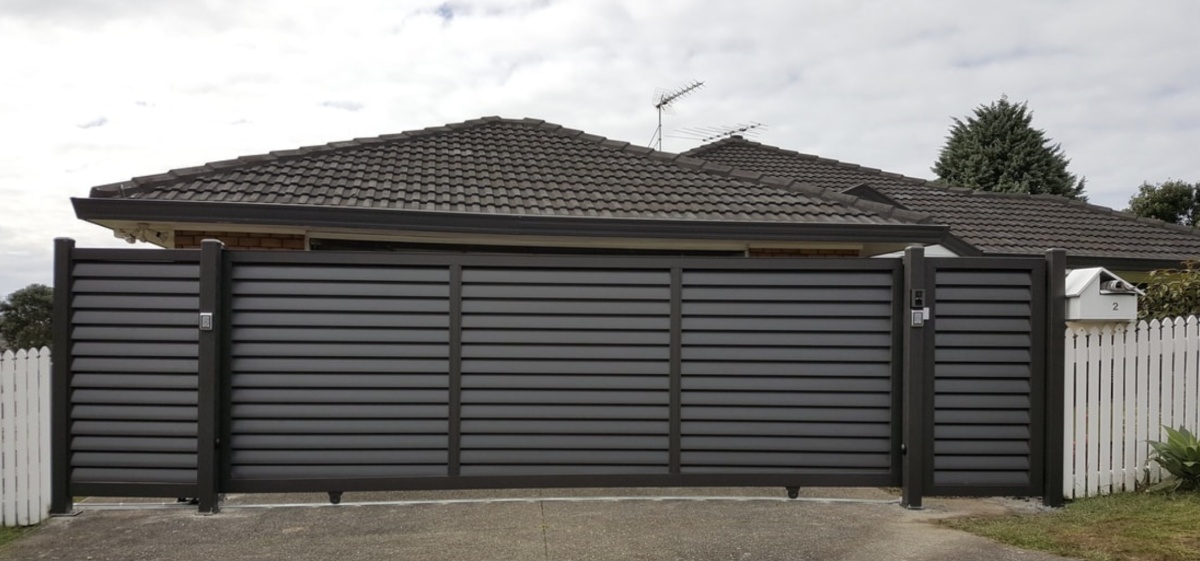 Why Choose Our Auckland Remote Driveway Gate Builders
We understand that there are numerous options for remote driveway gate services in Auckland, but we think that we offer unique features that distinguish us from the competition. Here are just a few of the many reasons why you should pick us:
Expertise
Our team has years of expertise providing electric driveway gate services, and as a result, they are able to provide experienced help at every step of the process.
Quality
To ensure that your gate will survive for years to come, we exclusively utilize high-quality materials and equipment.
Customization
To ensure that your gate fits your unique demands and style, we offer a range of customization options.
Competitive Prices
We think that high-quality gate services need to be available at prices that are reasonable and offer value.
Our Driveway Gate Finishes
To ensure that your gate looks great and lasts for years to come, we offer a range of gate finishes. We offer the following finishes:
Powder Coating Finishes
A coating that is resistant to fading, peeling, and scratching is provided by this finish, making it durable and long-lasting.
Galvanized Finishes
To protect the gate from rust and corrosion, this finish requires depositing a layer of zinc.
Paint Finishes:
To match your style and tastes, we offer a range of paint finishes. Our team will assist you in selecting the appropriate finish for your gate.
Additional Finishes
To meet your unique needs and style, we can offer alternative finishes, including as polishing and anodizing.
About Us
We are a team of driveway gate experts who are dedicated to offering top-quality services to homeowners and businesses located around the city of Auckland. We take great pride in our knowledge, quality, personalization possibilities, and affordable rates. Get in touch with us today to learn more about our services and how we can help you enhance the security and appearance of your property.
Frequently Asked Questions About Our Auckland Electric Driveway Gates
Electric driveway gates are highly secure and provide an extra layer of protection for your property. They can be equipped with advanced security features such as keypads, intercoms, and cameras for enhanced safety.
We offer a variety of electric gate styles, including sliding gates, automatic gates, and swing gates, each designed to meet different functional and aesthetic needs.
Electric gates operate through a motor and an automation system. They can be controlled via a remote, smartphone app, keypad, or even voice commands, depending on the system you choose.
Yes, many manual gates can be upgraded to electric gates. The process involves installing a motor and an automation system. Contact us for a consultation to see if your existing gate is eligible for an upgrade.
Electric gates require regular maintenance checks to ensure their longevity and functionality. This includes inspecting the motor, automation systems, and all moving parts.
Most electric gates come with a manual release system that allows you to open and close the gate manually in case of a power outage. Some systems also have battery backup options.
The cost of installing an electric gate can vary based on the type, material, and additional features you choose. Contact us for a customized quote tailored to your needs.
The installation timeframe can vary based on the complexity of the project, but generally, it can take anywhere from a few hours to a couple of days.
Yes, our electric gates are designed to be durable and weather-resistant, providing reliable operation in various weather conditions.
Yes, we offer warranties on all our electric gate installations. The length and terms of the warranty depend on the type of gate and components you choose.
Auckland Areas We Provide Electric Driveway Gates
From far north, to South Auckland and more, we service the wider Auckland area with electric driveway gate services. Find your area below!
North Shore Electric Driveway Gate Areas
Albany
Bayswater
Bayview
Beach Haven
Belmont
Birkdale
Birkenhead
Browns Bay
Campbells Bay
Castor Bay
Chatswood
Cheltenham
Crown Hill
Devonport
Fairview Heights
Forrest Hill
Glenfield
Greenhithe
Hauraki
Highbury
Hillcrest
Long Bay
Mairangi Bay
Marlborough
Milford
Murrays Bay
Narrow Neck
Northcote
Northcote Point
North Harbour
Northcross
Okura
Oteha
Paremoremo
Pinehill
Rosedale
Rothesay Bay
Schnapper Rock
Stanley Bay
Stanley Point
Sunnynook
Takapuna
Torbay
Totara Vale
Unsworth Heights
Auckland Central Electric Driveway Gate Areas
Arch Hill

Auckland CBD

Avondale

Blockhouse Bay

Balmoral

Blackpool

Eden Terrace

Eden Valley

Ellerslie

Epsom

Freemans Bay

Glendowie

Glen Innes

Grafton

Greenlane

Greenwoods Corner

Grey Lynn

Herne Bay

Hillsborough

Kingsland

Kohimarama

Lynfield

Meadowbank

Mission Bay

Morningside

Mount Albert

Mount Eden

Mount Roskill

Mount Wellington

Newmarket

Newton

New Windsor

Onehunga

Oneroa

Onetangi

One Tree Hill

Ōrākei

Oranga

Ostend

Ōtāhuhu

Owairaka

Palm Beach

Panmure

Parnell

Penrose

Point England

Point Chevalier

Ponsonby

Remuera

Royal Oak

Saint Heliers

St Johns

Saint Marys Bay

Sandringham

Stonefields

Surfdale

Tāmaki

Te Papapa

Three Kings

Waikowhai

Wai o Taiki Bay

Waterview

Wesley

Western Springs

Westfield

Westmere
South Auckland Electric Driveway Gate Areas
Airport Oaks
Beachlands
Botany Downs
Brookby
Bucklands Beach
Burswood
Chapel Downs
Clendon Park
Clevedon
Clover Park
Cockle Bay
Dannemora
East Tāmaki
East Tāmaki Heights
Eastern Beach
Farm Cove
Favona
Flat Bush
Golflands
Goodwood Heights
Greenmeadows
Half Moon Bay
Highland Park
Hillpark
Howick
Huntington Park
Kawakawa Bay
Mahia Park
Māngere
Māngere Bridge
Māngere East
Manukau
Manukau Heights
Manurewa
Maraetai
Meadowlands
Mellons Bay
Middlemore
Murphys Heights
Northpark
Orere Point
Ormiston
Ōtara
Pakuranga
Pakuranga Heights
Papatoetoe
Randwick Park
Settlers Cove
Shamrock Park
Shelly Park
Silkwood Heights
Somerville
Sunnyhills
The Gardens
Totara Heights
Tuscany Estate
Waimahia Landing
Wattle Cove
Wattle Downs
Weymouth
Whitford
Wiri
West Auckland Electric Driveway Gate Areas
Anawhata
Cornwallis
Bethells Beach
Glen Eden
Glendene
Green Bay
Henderson
Henderson Valley
Herald Island
Hobsonville
Huia
Karekare
Kaurilands
Kelston
Konini
Laingholm
Lincoln
McLaren Park
Massey
New Lynn
Oratia
Parau
Piha
Rānui
Royal Heights
Sunnyvale
Swanson
Te Atatū
Te Atatū Peninsula
Te Atatū South
Titirangi
Waiatarua
Westgate
West Harbour
Western Heights
Whenuapai
North Shore Electric Driveway Gate Areas
Algies Bay
Arkles Bay
Army Bay
Big Omaha
Dairy Flat
Dome Forest
Dome Valley
Glorit
Gulf Harbour
Hatfields Beach
Helensville
Huapai
Kaipara Flats
Kaukapakapa
Kumeū
Leigh
Mahurangi East
Mahurangi West
Mangakura
Manly
Makarau
Matakana
Matakatia
Millwater
Muriwai
Omaha
Orewa
Parakai
Pakiri
Point Wells
Port Albert
Puhoi
Red Beach
Redvale
Riverhead
Sandspit
Shelly Beach
Snells Beach
South Head
Stanmore Bay
Tapora
Tauhoa
Taupaki
Tāwharanui Peninsula
Te Arai
Te Hana
Ti Point
Tindalls Beach
Tomarata
Wade Heads
Waimauku
Wainui
Waitoki
Waiwera
Warkworth
Whangaparaoa
Whangaripo
Whangateau
Wharehine
Wellsford
Woodhill Forest
Repair and Maintenance Services for Electric Gates
Apart from our top-notch installation services, [Your Company's Name] is fully committed to the long-term care and upkeep of your electric gates. Whether you're an existing customer or new to our services, we're always ready to assist you with all your repair and maintenance needs.
Scheduled Maintenance
We offer a comprehensive maintenance plan designed specifically for electric gates. Our team ensures that your gate motors and automation systems are always in optimal condition. We take great pride in our meticulous attention to detail, examining every component from ground loops to remote access systems to guarantee your gates' longevity and functionality.
Rapid Response Repairs
We understand that issues with electric gates can cause significant inconveniences. If you find yourself facing operational hiccups with your gate's automation system or mechanical parts, you can count on us for rapid on-site support. Our goal is to troubleshoot and resolve any issues as swiftly as possible, restoring both security and peace of mind to your property.
Remote Access and Automation Care
Your electric gate is a complex piece of machinery that relies on multiple elements, including remote access systems, to function seamlessly. We specialize in identifying and resolving minor glitches before they become major issues. Our team is skilled in working with various forms of gate automation, ensuring that your remote access features are always up-to-date and functioning at their best.