Your Professional Auckland Slat Experts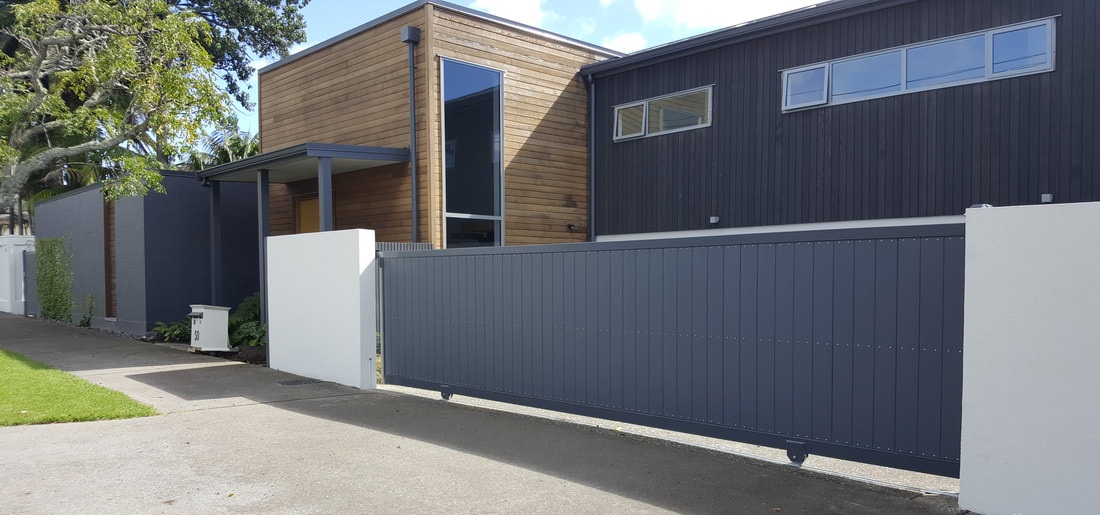 Welcome to A1 Slat Fencing & Panels Auckland, your trusted source for state-of-the-art residential and commercial slat panel and fencing solutions in the Auckland area. We excel in combining striking aesthetics with top-tier craftsmanship, going above and beyond to exceed your expectations in both product quality and customer service. Our primary goal is to address the unique requirements of each client, all while delivering stylish and durable slat fencing options.
Our expertise extends across a myriad of fencing styles, but we take special pride in our aluminum slat fencing. It's not just fencing; it's a blend of privacy, style, and durability, designed for the modern property owner. We utilize the highest-grade materials to ensure your slat fence isn't only eye-catching but is also built to withstand the test of time. We handle every aspect, from manufacturing to installation, ensuring quality at each step.
Deciding on a new fence can bring up numerous questions and concerns—ranging from costs and quality of materials to installation timelines. We're here to simplify that process for you. Our team offers a streamlined, worry-free experience, guiding you through every decision and logistical detail.
Transparency is at the heart of our operation, which is why we prioritize open and consistent communication from the first consultation through to project completion. Our team is always available to answer your questions, tackle your concerns, and keep you updated, ensuring a seamless and satisfying project outcome.
We understand that budget is a significant factor for most property owners. That's why we offer competitive, transparent pricing without compromising on the exceptional quality of our slat fences or our unparalleled customer service.
Contact us today for a complimentary consultation and learn how we can meet, and exceed, all your slat fencing needs. Your ideal fence and panels are just a call away.
FREE INSTANT ESTIMATE
**plus FREE bonus coupon**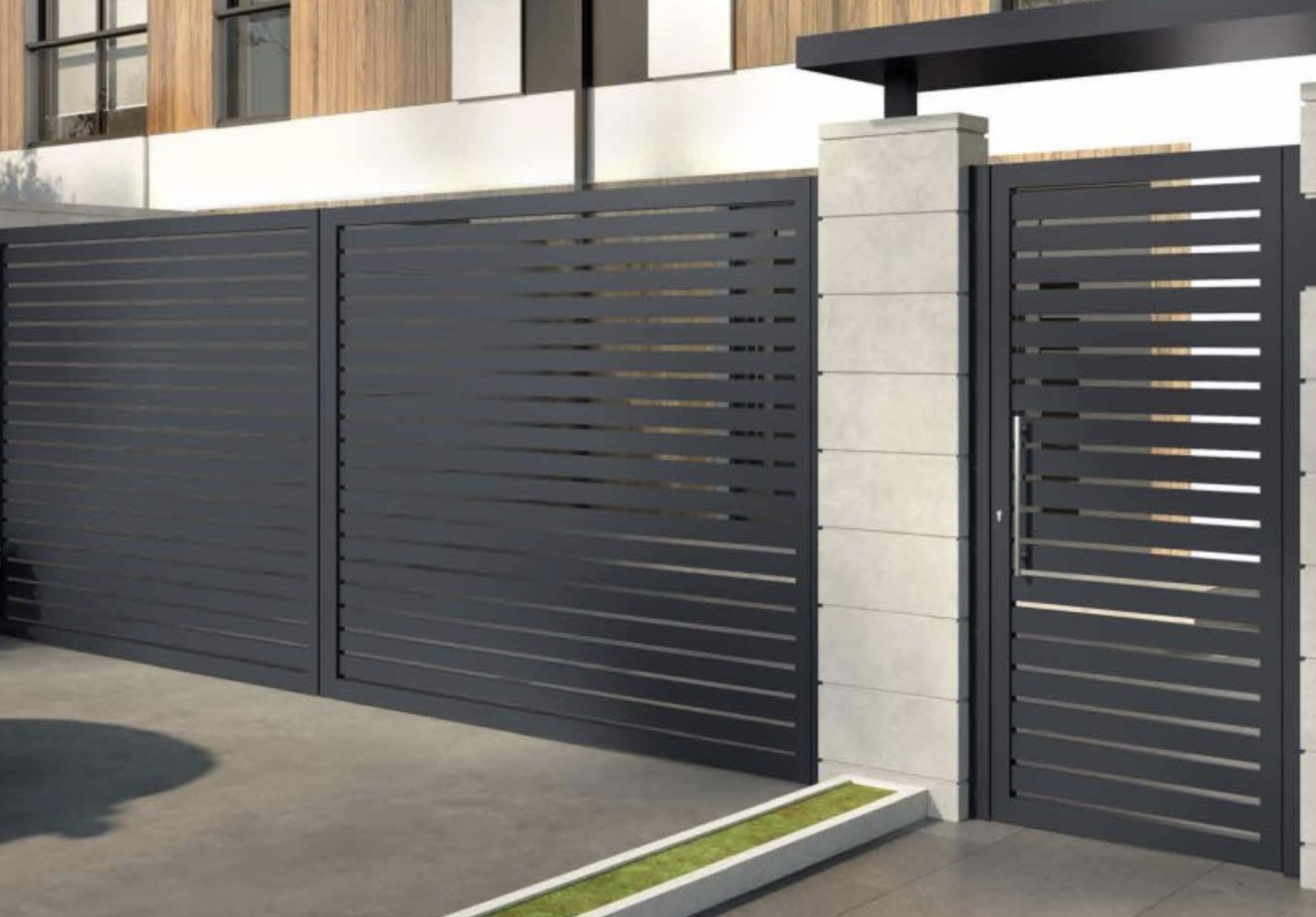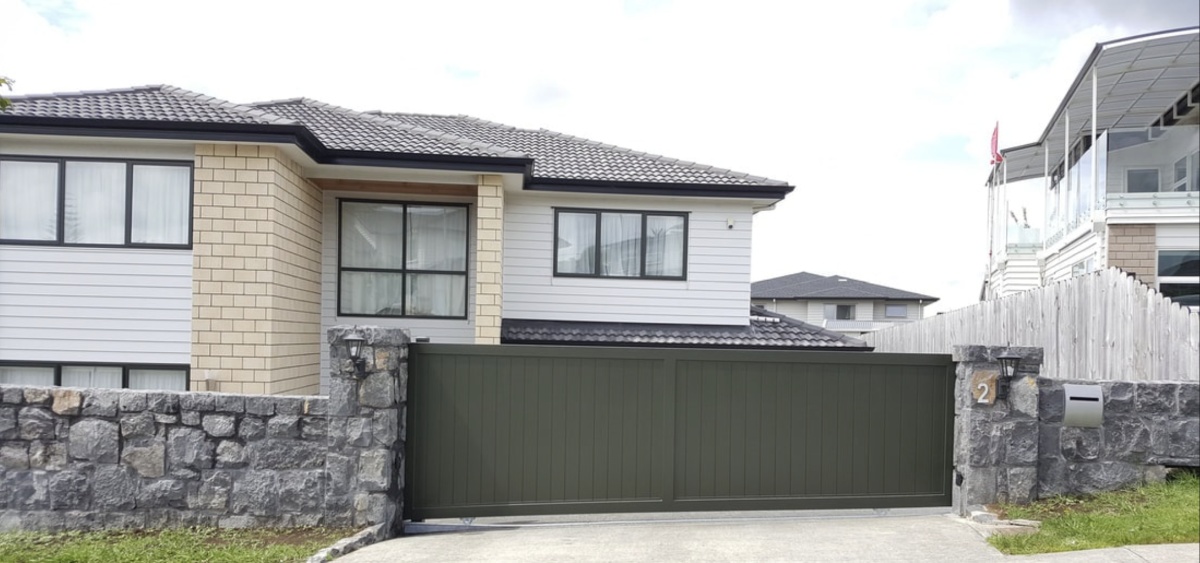 Why Choose Slatwall Aluminum Fencing & Panels?
A Perfect Blend of Privacy and Natural Light
Struggling to find a fence or panel that both safeguards your privacy and welcomes natural light into your space? Look no further. Our Slatwall Aluminum Fencing is engineered with contemporary outdoor living in mind. It masterfully blends the need for privacy with the aesthetic and health benefits of natural light, delivering a dual advantage that is hard to find in typical fencing solutions.
Are you struggling to find a fencing solution that offers both privacy and an influx of natural light? Our Slatwall Aluminum Fencing is specifically designed for modern outdoor living, combining privacy and light penetration in one stunning package.
Key Features That Set Slatwall Apart
Superior Aesthetics for Modern Homes
The design and craftsmanship behind our Slatwall Aluminum Fencing take aesthetic considerations to a new level. Made from high-quality aluminum, its clean lines and sleek configuration are a natural fit for modern architecture. This fencing solution adds a layer of sophistication that not only elevates your property's curb appeal but also turns your fencing into a statement piece.
The Ultimate in Privacy Screening
In today's world, the value of privacy cannot be overstated, especially in your own outdoor spaces. Our Slatwall Aluminum Fencing is designed with this in mind. The configuration of the slats creates an effective privacy screen, making it almost impossible for outsiders to view into your space. Now, you can host gatherings, sunbathe, or simply enjoy a quiet afternoon outdoors, confident in the seclusion your fence offers.
Letting Natural Light In
While traditional fences may serve as impenetrable barriers that block out light, our Slatwall Aluminum Fencing breaks the mold. Its innovative design features strategically spaced slats that allow a controlled amount of natural light to filter through. This results in a warm, sunlit environment where you can enjoy the best of both worlds—privacy without the feeling of confinement. The filtered sunlight creates an ambiance that makes your outdoor spaces more inviting, be it a patio, garden, or yard.
Each of these key features contributes to making Slatwall Aluminum Fencing an unmatched option for those looking for a versatile, stylish, and practical fencing solution. Don't settle for less when you can have both privacy and natural light. Reach out to us to learn more about how our Slatwall Aluminum Fencing can redefine your outdoor living experience.
Slatwall Panels: The Building Blocks of Versatility and Style
We manufacture, supply and install slatwall alumuinum panels. One of the most transformative features of our Slatwall Aluminum Fencing is the use of Slatwall panels. These panels serve as the building blocks of your fencing solution and are pivotal in bringing all the aforementioned benefits—privacy, aesthetics, and light—to life.
Unparalleled Customization
Slatwall panels offer unmatched customization, allowing you to choose from various sizes, colors, and orientations. Whether you want vertical slats for a contemporary look or horizontal ones for a more classic aesthetic, these panels give you the flexibility to realize your vision. You can even mix and match different configurations within the same fencing system to create durable. They are designed to withstand the elements, ensuring that your fence will not just look good on day one, but for years to come. Our panels are rust-resistant, fade-resistant, and require minimal maintenance, making them a cost-effective choice in the long run.
Hassle-Free Installation
We understand that the thought of installing a new fencing system can be daunting. That's why we offer a comprehensive supply and installation service for our Slatwall panels. Our team of experienced installers will handle everything from the initial consultation to the final touches, ensuring that your fencing is set up to the highest standards.
Streamlined Process for Your Convenience
When you choose our services, we provide you with a streamlined experience that saves you time and effort. Our experts will consult with you to understand your specific needs and preferences. We'll then custom-cut the panels according to your specifications, and our installation team will set up your new fence quickly and efficiently. The result is a customized, high-quality fence installed with professional expertise.
By offering both the provision and installation of Slatwall panels, we aim to make your life easier. You don't have to worry about sourcing materials or hiring separate contractors; we take care of it all.
In summary, Slatwall panels are the cornerstone of our innovative fencing solution, offering a perfect blend of form and function. With the added convenience of our professional provision and installation services, elevating the aesthetics and utility of your outdoor space has never been easier. Contact us today to learn how slatwall aluminum fencing or panels can transform your property.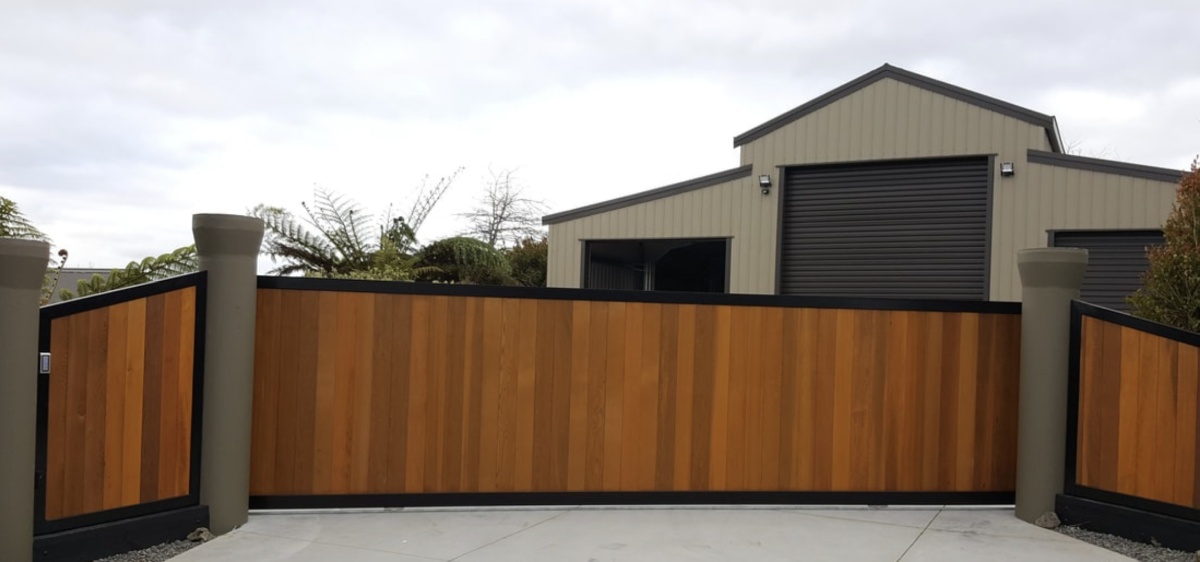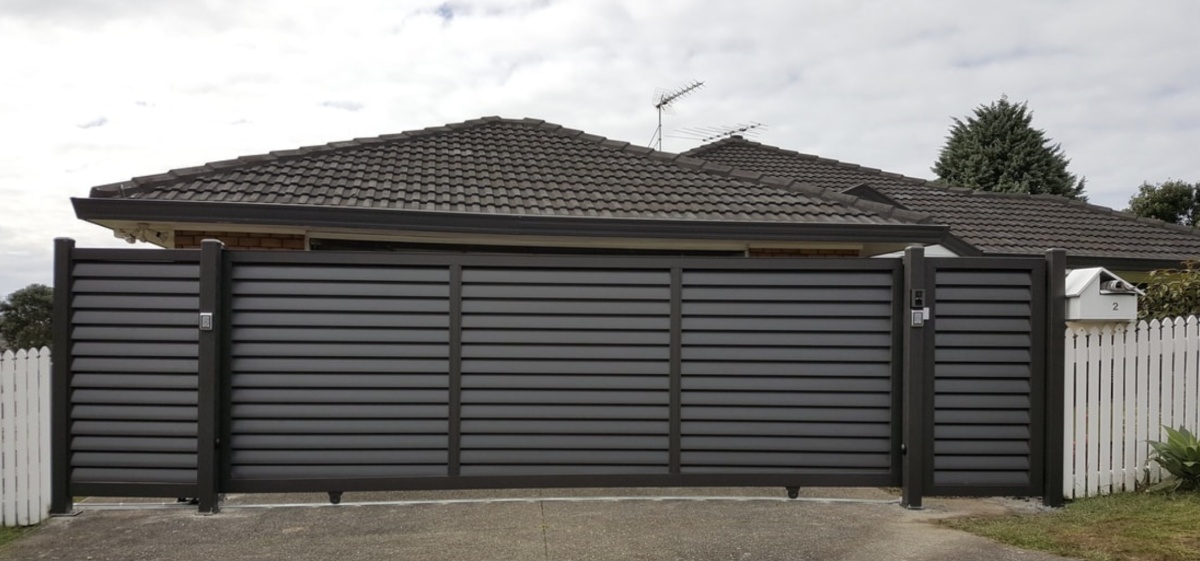 Why Choose Us for Your Slatwall Aluminum Fencing Needs in Auckland?
Unmatched Expertise
Our team of seasoned professionals has years of experience in the fencing industry, ensuring that you receive a product and service that's second to none. We understand the ins and outs of Slatwall Aluminum Fencing, and we bring this knowledge to every project we undertake.
Customized Solutions
We don't believe in one-size-fits-all. Each property is unique, and that's why we offer bespoke fencing solutions tailored to meet your specific needs. Whether it's the dimensions, style, or additional features, we customize it all to blend seamlessly with your property's existing architecture.
Transparent Pricing
No hidden fees or surprise charges—just transparent, upfront pricing that gives you the confidence to proceed with your project. We provide detailed quotes after our initial free consultation, so you know exactly what you're paying for.
High-Quality Materials
We are committed to using only the highest quality aluminum in our fencing solutions, ensuring long-lasting durability and aesthetic appeal. No shortcuts, no compromises—only the best for our clients.
Quick and Efficient Installation
We respect your time and understand that you want minimal disruptions to your daily life. That's why we work efficiently to install your new fence in a timely manner without compromising on quality.
Full-Service Provider
From the initial consultation and design phase to manufacturing, supply, and installation—our comprehensive service offering makes us a one-stop-shop for all your fencing needs in Auckland.
Exceptional After-Sales Support
Our relationship doesn't end once the installation is complete. We offer unparalleled after-sales support to ensure you're completely satisfied with your new fence. From maintenance tips to quick resolutions for any issues, we're just a call away.
Customer Satisfaction Guaranteed
Our mission is to exceed your expectations, not just meet them. We aim to provide a hassle-free experience that leaves you 100% satisfied, confident that you made the right choice with us for your Slatwall Aluminum Fencing project.
Choosing us means choosing unparalleled quality, exceptional customer service, and peace of mind that you're making a worthwhile investment in your property. Don't settle for less—contact us today to get started.
Why Choose Slatwall Aluminum Fencing?
When it comes to creating a sense of privacy, security, and aesthetic appeal around your home, few options can compete with Slatwall Aluminum Fencing. Below we dive deeper into the key advantages that set Slatwall Aluminum Fencing apart from other choices in the market.
Durability That Lasts
In the harsh reality of fluctuating weather conditions and the occasional knocks and bumps that outdoor installations must endure, durability is an indispensable feature. Our Slatwall Aluminum Fencing is crafted from high-grade aluminum, a material known for its exceptional resilience. It is rust-resistant, fade-resistant, and can withstand everything from intense sun to heavy rain, offering you a long-lasting fencing solution that looks as good as new for years to come.
Low Maintenance, High Satisfaction
Homeowners often dread the constant maintenance that comes with traditional wooden or iron fences. Whether it's repainting, sanding, or repairing damage, it can be both time-consuming and costly. With Slatwall Aluminum Fencing, those worries are a thing of the past. The material and finish are designed to require minimal maintenance, letting you enjoy your outdoor space without the nagging thought of fence upkeep. A simple wash now and then is all it takes to keep your fence looking pristine.
Versatile Aesthetic Appeal
In today's world, where home styles range from classic to contemporary, one-size-fits-all solutions rarely suffice. This is why we've designed our Slatwall Aluminum Fencing to be aesthetically versatile. Its sleek and elegant design adds a touch of modernity, while its simple lines can easily blend into more traditional settings. The customizable Slatwall panels further allow you to adapt the look to match your home's unique architectural features.
Security You Can Count On
An often-overlooked benefit of good fencing is the element of security it can provide. While the aesthetic and functional features of Slatwall Aluminum Fencing are impressive, its utility as a security barrier is equally important. The robust construction and quality materials make it a formidable barrier against intruders. Plus, the design allows for optional features like integrated security cameras or sensor-based lighting, offering you an extra layer of protection.
Choosing Slatwall Aluminum Fencing is not just an aesthetic decision, but also a practical one. Its unmatched durability, low maintenance requirements, versatile design, and robust security features make it a comprehensive solution for anyone looking to enhance their outdoor space. Contact us today to learn more about how this innovative fencing solution can meet your needs.
Take the Next Step: Choose Us For Your Slatwall Installation Aluminum Fencing in Auckland
You've read about the numerous advantages and the unmatched flexibility that Slatwall Aluminum Fencing offers. Now, it's time to bring this state-of-the-art fencing solution to your property in Auckland.
Comprehensive Services to Meet Your Needs
We're not just suppliers; we are a full-service company that specializes in the manufacturing, installation, and supply of Slatwall Aluminum Fencing. Our team of experienced professionals is here to guide you through each step of the process, ensuring that you get a personalized solution that perfectly suits your needs and budget.
Hassle-Free Consultations
Ready to get started but not sure where to begin? We offer free, no-obligation consultations where we assess your property, discuss your requirements, and offer tailored suggestions. Our experts will walk you through all your options and provide transparent quotes, so you know exactly what to expect.
Quality You Can Trust
With our commitment to excellence, each fence we manufacture, supply, or install meets the highest quality standards. When you choose us, you're not just getting a fence; you're investing in a durable and aesthetically pleasing addition to your property that offers both privacy and security.
Don't Wait, Secure Your Space Now
With all the benefits at your fingertips, there's no reason to delay enhancing your outdoor space any longer. Contact us today to schedule your free consultation and take the first step towards a more secure, private, and beautiful property with our Slatwall Aluminum Fencing.
By choosing us, you're choosing quality, reliability, and peace of mind. Reach out now and let's transform your outdoor space into something truly extraordinary.
Frequently Asked Questions About Aluminuim Gates
Slatwall Aluminum Fencing is a modern fencing option that combines aesthetic appeal with functionality. It's designed to offer privacy while allowing natural light to filter through, enhancing the beauty and usability of your outdoor space.
Made from high-quality aluminum, Slatwall Fencing is highly durable and can withstand a variety of weather conditions. The material is resistant to rust, corrosion, and UV damage, ensuring long-lasting quality.
Yes, Slatwall Fencing requires minimal maintenance. Due to the durable aluminum construction, you won't need to worry about regular paint jobs or repairs. Simply clean it with soapy water and a soft brush as needed.
Absolutely, we offer customized solutions tailored to fit your specific requirements and design preferences. Whether you're interested in custom dimensions, colors, or styles, we can make it happen.
The installation time varies depending on the complexity and size of the project. However, we strive to complete most installations efficiently, minimizing disruptions to your daily life.
Definitely, while Slatwall Fencing is designed for aesthetic appeal and functionality, it also serves as a robust security barrier. The strong aluminum panels make it difficult for intruders to breach.
The cost can vary depending on a range of factors such as customization, size, and installation requirements. For an accurate quote, please contact us for a free consultation.
Getting started is easy! Simply reach out to us for a no-obligation consultation. We'll assess your needs, provide a detailed quote, and walk you through the various options available for your Slatwall Aluminum Fencing project.
The minimal level of maintenance that is required for aluminum is one of its advantages. For the majority of aluminum gates, all that is required to maintain them looking their best is a simple cleaning with a gentle soap and water every few months. If the gate is automated, it is advised that a professional examine all of the mechanical sections of the gate at least once every year to ensure that they continue to be in good working order.
Absolutely! Our aluminum custom gates are constructed according to the specifications that you provide. We are able to design and construct a gate that is in keeping with the architectural style of your property or the fencing that is already in place. You have the option of selecting the design, color, and end that works in concert with the aesthetic of your property.
Aluminum gates give good security. Because of their strength and longevity, it is difficult to break through them. Locks and other forms of automation can be built into the construction of the structure to provide an additional layer of safety. Intercoms and security cameras are two examples of useful features that can be integrated into automated gates to enhance convenience and safety.
The length of time between placing an order and having the gate installed is contingent on a number of factors, the most important of which are the intricacy of the gate's design and the volume of work that we are now experiencing. Despite this, we make it a priority to finish each project as quickly as possible, and we will provide an anticipated completion date when the order is placed. Rest assured that we place a high focus on productivity without lowering the standard of the work that we produce in any way.
Auckland Areas We Provide Slat Panels & Fencing
From far north, to South Auckland and more, we service the wider Auckland area with slat panels & fencing supply and install. Find your area below!
North Shore Aluminium Gate Areas
Albany
Bayswater
Bayview
Beach Haven
Belmont
Birkdale
Birkenhead
Browns Bay
Campbells Bay
Castor Bay
Chatswood
Cheltenham
Crown Hill
Devonport
Fairview Heights
Forrest Hill
Glenfield
Greenhithe
Hauraki
Highbury
Hillcrest
Long Bay
Mairangi Bay
Marlborough
Milford
Murrays Bay
Narrow Neck
Northcote
Northcote Point
North Harbour
Northcross
Okura
Oteha
Paremoremo
Pinehill
Rosedale
Rothesay Bay
Schnapper Rock
Stanley Bay
Stanley Point
Sunnynook
Takapuna
Torbay
Totara Vale
Unsworth Heights
Auckland Central Aluminium Gate Areas
Arch Hill

Auckland CBD

Avondale

Blockhouse Bay

Balmoral

Blackpool

Eden Terrace

Eden Valley

Ellerslie

Epsom

Freemans Bay

Glendowie

Glen Innes

Grafton

Greenlane

Greenwoods Corner

Grey Lynn

Herne Bay

Hillsborough

Kingsland

Kohimarama

Lynfield

Meadowbank

Mission Bay

Morningside

Mount Albert

Mount Eden

Mount Roskill

Mount Wellington

Newmarket

Newton

New Windsor

Onehunga

Oneroa

Onetangi

One Tree Hill

Ōrākei

Oranga

Ostend

Ōtāhuhu

Owairaka

Palm Beach

Panmure

Parnell

Penrose

Point England

Point Chevalier

Ponsonby

Remuera

Royal Oak

Saint Heliers

St Johns

Saint Marys Bay

Sandringham

Stonefields

Surfdale

Tāmaki

Te Papapa

Three Kings

Waikowhai

Wai o Taiki Bay

Waterview

Wesley

Western Springs

Westfield

Westmere
South Auckland Aluminium Gate Areas
Airport Oaks
Beachlands
Botany Downs
Brookby
Bucklands Beach
Burswood
Chapel Downs
Clendon Park
Clevedon
Clover Park
Cockle Bay
Dannemora
East Tāmaki
East Tāmaki Heights
Eastern Beach
Farm Cove
Favona
Flat Bush
Golflands
Goodwood Heights
Greenmeadows
Half Moon Bay
Highland Park
Hillpark
Howick
Huntington Park
Kawakawa Bay
Mahia Park
Māngere
Māngere Bridge
Māngere East
Manukau
Manukau Heights
Manurewa
Maraetai
Meadowlands
Mellons Bay
Middlemore
Murphys Heights
Northpark
Orere Point
Ormiston
Ōtara
Pakuranga
Pakuranga Heights
Papatoetoe
Randwick Park
Settlers Cove
Shamrock Park
Shelly Park
Silkwood Heights
Somerville
Sunnyhills
The Gardens
Totara Heights
Tuscany Estate
Waimahia Landing
Wattle Cove
Wattle Downs
Weymouth
Whitford
Wiri
West Auckland Aluminium Gate Areas
Anawhata
Cornwallis
Bethells Beach
Glen Eden
Glendene
Green Bay
Henderson
Henderson Valley
Herald Island
Hobsonville
Huia
Karekare
Kaurilands
Kelston
Konini
Laingholm
Lincoln
McLaren Park
Massey
New Lynn
Oratia
Parau
Piha
Rānui
Royal Heights
Sunnyvale
Swanson
Te Atatū
Te Atatū Peninsula
Te Atatū South
Titirangi
Waiatarua
Westgate
West Harbour
Western Heights
Whenuapai
North Shore Aluminium Gate Areas
Algies Bay
Arkles Bay
Army Bay
Big Omaha
Dairy Flat
Dome Forest
Dome Valley
Glorit
Gulf Harbour
Hatfields Beach
Helensville
Huapai
Kaipara Flats
Kaukapakapa
Kumeū
Leigh
Mahurangi East
Mahurangi West
Mangakura
Manly
Makarau
Matakana
Matakatia
Millwater
Muriwai
Omaha
Orewa
Parakai
Pakiri
Point Wells
Port Albert
Puhoi
Red Beach
Redvale
Riverhead
Sandspit
Shelly Beach
Snells Beach
South Head
Stanmore Bay
Tapora
Tauhoa
Taupaki
Tāwharanui Peninsula
Te Arai
Te Hana
Ti Point
Tindalls Beach
Tomarata
Wade Heads
Waimauku
Wainui
Waitoki
Waiwera
Warkworth
Whangaparaoa
Whangaripo
Whangateau
Wharehine
Wellsford
Woodhill Forest